Inside Emily Dickinson: Her Poetry and Her Life, An Interactive Performance by Actress Ginger Grace, Saturday, April 22 at 2:00 p.m.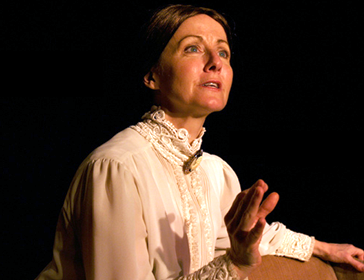 Actress Ginger Grace has toured nationally alongside famed celebrity impressionist Rich Little's "The Presidents", playing First Ladies from Jackie Kennedy to Hillary Clinton.
The Inside Emily Dickinson performance draws on Dickinson's letters as well as her work, chronicling a childhood spent among Amherst's affluent classes.
This special Poetry Month event is sponsored by The Community Foundation for Greater New Haven.
The Community Foundation for Greater New Haven is a philanthropic institution that was established in 1928 as the community's permanent charitable endowment. For more than three generations, thousands of donors have built our community endowment by establishing permanent funds or making gifts to existing funds that distribute grants to a broad variety of issues and organizations. These donors, past and present, make their gifts to ensure that programs and causes that matter most to them will be supported today and forever.
Seating is limited, so please visit the library, call 203-468-3890 or email Cynthia at cgwiazda@hagamanlibrary.org to register. Weekend parking for library events is available at the Town Hall parking lot across the street from the library.