Local Author Tony Renzoni will present his book…"Connecticut Rock 'N' Roll: A History" on Saturday, November 4 at 2:00 p.m.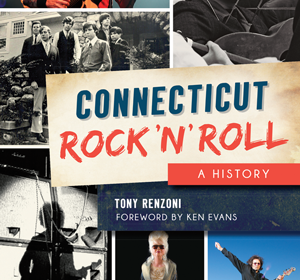 "Rock"ville USA
Long neglected in the annals of American music, the Nutmeg State's influence on the history of rock'n'roll deserves recognition. Connecticut's musical highlights include the beautiful harmonies of New Haven's Five Satins, Gene Pitney's rise to fame, Stamford's the Fifth Estate and notable rockers such as Thurston Moore of Sonic Youth, Rivers Cuomo of Weezer and Saturday Night Live Band's Christine Ohlman. Rock Hall of Famers include Tina Weymouth and Chris Frantz of the Talking Heads and Dennis Dunaway of the Alice Cooper Band. Some events became legend, like Jimi Hendrix's spellbinding performance at Yale's Woolsey Hall, Jim Morrison's onstage arrest at the New Haven Arena and teenage Bob Dylan's appearance at Branford's Indian Neck Folk Festival. With in-depth interviews as well as rare, neverbefore-seen photos, author Tony Renzoni leads a sonic trip that captures the spirit and zenith of the local scene. Following the presentation, Mr. Renzoni will be available to sell and sign copies of his book. The book is $21.99 plus tax and cash or credit card is accepted.
ABOUT THE AUTHOR:
A graduate of Sacred Heart University, Tony Renzoni is a rock 'n' roll enthusiast and an avid collector of rock memorabilia, amassing a record collection of over ten thousand vinyl records. He has authored over one thousand weekly guest columns published in the Connecticut Post newspaper and website. During a thirty-eight-year career with the federal government, many as a district manager in Fairfield County, Tony was a recipient of more than forty awards, including his agency's highest honor award. Click here to check out Tony Renzoni's Facebook page.
This author talk and book signing is free and open to everyone. Seating is limited, so please visit the library, email Cynthia Gwiazda, Community Services Librarian, or call 203.468.3890 to register.