Pizza Party Raffle This Summer at Hagaman!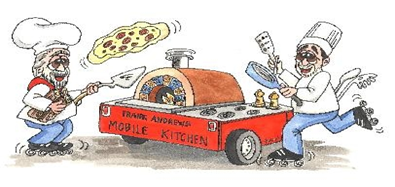 Are you planning to host a party for Labor Day? Do you have overdue fines at the Hagaman Memorial Library? If so, Visit the Library on 227 Main Street, in East Haven this summer and pay off your overdue fines by purchasing raffle tickets for $1.00 each and get a chance to win a pizza party for 30 people from Frank Andrew's Mobile Kitchen, LLC. Enjoy some specialty wood fired pizza at your next party! The raffle drawing will take place at the library at 2:00 p.m. on Monday, August 28, 2017.
The proceeds from the raffle will be used to maintain Carolyn's garden. Carolyn Siedzik was Hagaman Library's Children's Librarian from 1967-1973 & 1981-2008. She passed away in 2008. A special flower garden, located on the library grounds, was dedicated in her memory. Visit the library to purchase your raffle tickets! For more information, call Cynthia at 203-468-3891.