Tracking New England's Most Imperiled Species: A Presentation by Natural History Writer Todd McLeish, Wed., July 26 at 6:30 p.m.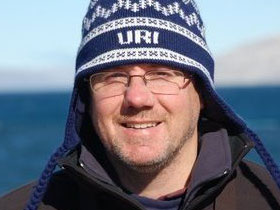 Natural history writer Todd McLeish (www.toddmcleish.com) will do a presentation on the endangered species of New England. His presentation is based on his book entitled Golden Wings and Hairy Toes: Encounters With New England's Most Imperiled Wildlife. The presentation will profile fourteen of New England's most rare and endangered flora and fauna — mammals, birds, insects, plants, and fish. Todd will discuss his experience with the biologists who are researching, monitoring, and protecting these species. His presentation will include discussion of his visits to historical cemeteries to see New England's rarest plant, his tracking of sturgeon in the Connecticut River, and his observations of one of the rarest mammals on earth, the North Atlantic right whale, in Cape Cod Bay.
Todd has been writing about wildlife and environmental issues for more than 20 years. While earning degrees in communications at Ithaca College and Emerson College, he developed a passion for wildlife, natural history and environmental protection. Rather than pursue a biology degree, he immersed himself in the natural world by volunteering to help biologists with their wildlife research and write about these experiences.
Copies of Narwhals: Arctic Whales in a Melting World and Golden Wings and Hairy Toes: Encounters With New England's Most Imperiled Wildlife will be available for sale and signing following the presentation. The books are $20 each and cash or check is accepted.
This presentation is free and open to everyone. Please visit the library or call 203-468-3890 to register to attend.
Extra parking for evening and weekend library events is available in the Town Hall parking lot across the street from the library and in the Stop and Shop parking lot behind the library off of Messina Drive.