A Century of the Titanic: An Illustrated Lecture by bestselling author Stephen Spignesi-Join Us For This Fun and Informative Lecture on Saturday, April 27 at 2:00 p.m.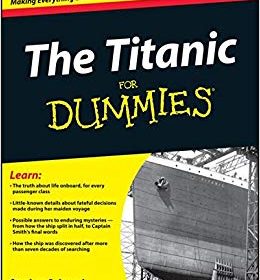 "A Century of Titanic" is an illustrated lecture presented by Stephen Spignesi, author of The Complete Titanic and The Titanic for Dummies.
The program looks at the history and legacy of the Titanic and covers the conception and building of the ship, the passengers, life on-board, the sailing, the collision, the sinking, and the aftermath.
Spignesi will also discuss why Titanic sank and will explain the combination of human errors and design errors that doomed the voyage. The discovery of the wreck is discussed, as well as the ongoing debate about whether salvaging Titanic artifacts is proper, or an offense to the memories of the lost. The Titanic in popular culture is also covered, with looks at the movies, the Broadway musical, and books about the ship.
A fascinating and enlightening slideshow accompanies the lecture, as well as songs from the Broadway musical. Attendees will receive a trifold, signed, color brochure and a signed limited edition "Titanic for Dummies" book card.
This program is free and open to everyone. Seating is limited, however, so please visit the library or call us at 203-468-3890 to reserve your seat(s)! You can also register by sending an email to Cynthia. Thank-you!
Extra parking for evening and weekend library events is available in the East Haven Town Hall parking lot on 250 Main Street (across the street from the library), in the KeyBank parking lot next to the library (after 12:00 p.m. on Saturdays and after 5:00 p.m. on weekdays) and in the Stop and Shop lot behind the library, accessible from Messina Drive.