Aleksander's Book Club – Sat. January 12 at 1:30 pm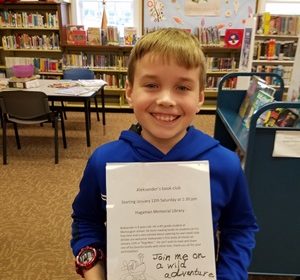 Aleksander is in 4th Grade at Momauguin School and loves to read books to students in his free time. He is very excited about starting his first book club. All kids are invited – no reservations necessary.
The first book we'll be reading is Dog Man: King of the Fleas. It is hilarious and fun! Pick up your copy at the library if you'd like to read it ahead of time, or hear it for the first time at Aleks' Book Club. Light refreshments will be served.
It is also the day that Samantha, the beautiful therapy dog who enjoys stories read to her by kids, will be visiting the library at 2pm.