Book Discussion: "My Cousin Rachel" by Daphne Du Maurier on Monday, October 18 at 3:00 p.m.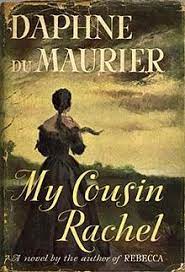 My Cousin Rachel  Synopsis: A young man plots revenge against the woman he believes murdered his cousin, but his plans are shaken when he comes face to face with the enigmatic beauty. When Philip Ashley's much-loved (and rich) cousin Ambrose dies, he is convinced that Ambrose was murdered by his new wife Rachel to inherit his wealth.
Hagaman Memorial Library's book discussion groups are free and open to everyone. We will be meeting to discuss My Cousin Rachel  inside the library in our DeMayo conference room. To sign-up to attend this discussion and to order a copy of the book, please contact Cynthia at 203-468-3891 or via email at cgwiazda@hagamanlibrary.org.