Cartooning Workshop with Rick Stromoski – Thu. July 1 at 4:30pm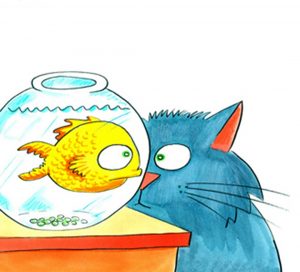 Award winning, nationally syndicated cartoonist, Rick Stromoski, is offering a live, virtual, and interactive cartooning class on Thu. July 1 at 4:30pm. The theme is animals. Budding cartoonists ages 8 to 16 are invited to Zoom in. All you need is a pile of blank paper and your favorite tools for drawing.
Rick likes to stress that it's about expression, not so much about copying exactly what he draws or striving for perfection. So don't be shy, sign up by email to Sascha: sgardiner@hagamanlibrary.org with "Cartooning" as the subject and your name and age. A meeting reminder with Zoom login details will be sent the day before the event.
Rick Stromoski is the creator of the syndicated comic strip "Soup 2 Nutz" and does humorous illustrations for children's publishing, greeting cards, calendars and more. Join Rick to learn some cool drawing tips and above all, have fun!
Now that this is part of our Summer Reading Program, you'll also get a raffle ticket for participating. Grand prizes will be drawn in August.
For more information, call us at 203-468-3890.