Despicable Me 3 – Thursday, December 28 at 2 p.m.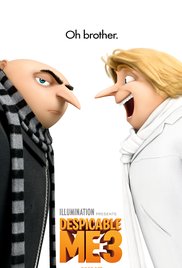 During school vacation week, join us for a free showing of the animated feature film, Despicable Me 3. The mischievous Minions hope that Gru will return to a life of crime after the new boss of the Anti-Villain League fires him. Instead, Gru decides to remain retired and travel to Freedonia to meet his long-lost twin brother for the first time. The reunited siblings soon find themselves in an uneasy alliance to take down the elusive Balthazar Bratt, a former 1980s child star who seeks revenge against the world. Rated PG – 1 hour 36 minutes
Free & open to all – bring your own snacks!