Film Night @ the Library: "A Christmas Carol" (1938) starring Reginald Owen, Gene Lockhart and Kathleen Lockhart -Thursday, December 13- 5:00 p.m. (Pizza) 5:30 p.m. (Film)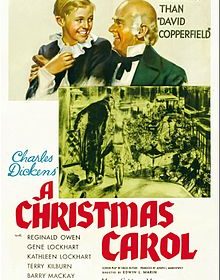 Enjoy a night out and a showing of the film A Christmas Carol (1938) starring Reginald Owen, Gene Lockhart and Kathleen Lockhart
On Christmas Eve, an old miser named Ebenezer Scrooge is visited by the spirit of his former partner, Jacob Marley. The deceased partner was in his lifetime as mean and miserly as Scrooge …
This month's film night is sponsored by Therapy Works of East Haven. Therapy Work's focus is on individualized treatment. They will design a program that fits your present condition and your future goals. If you need physical therapy, Therapy Works is the place for you! Call them today at 203.469.5731.
Film Nights at Hagaman are Free and open to everyone. Pizza and drinks are served. Registration is required to attend. Please visit the library, call 203.468.3890 or email Cynthia.
Additional parking for evening and weekend library events is available in the East Haven Town Hall parking lot across the street from the library, in the KeyBank parking lot next to the library (only after 6:00 p.m. on week nights and after 12:00 p.m. on Saturdays) and in the Stop and Shop lot behind the library, accessible from Messina Drive.