Film Night: "The Proposal" (2009) starring Sandra Bullock and Ryan Reynolds- Thursday, February 22 at 5:00 p.m.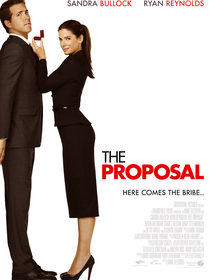 Enjoy a night out and a showing of The Proposal (2009) starring Sandra Bullock and Ryan Reynolds.
A businesswoman rushes into a marriage of convenience with her young assistant in order to prevent being deported back to Canada. But the ruse becomes even more complicated when the two must visit his family in Alaska.
This month's film night is sponsored by Therapy Works of East Haven. Therapy Work's focus is on individualized treatment. They will design a program that fits your present condition and your future goals. If you need physical therapy, Therapy Works is the place for you! Check out their website using the link above, or call them today at 203.469.5731.
Film Nights at Hagaman are Free and open to everyone. Pizza and drinks are served. Registration is required to attend. Please visit the library, call 203.468.3890 or email Cynthia to register.
Additional parking for evening and weekend library events is available in the East Haven Town Hall parking lot across the street from the library or in the Stop & Shop lot behind the library, accessible from Messina Drive.