Foodies- Online Database for Hagaman Library Card holders only! Recipes, Food Videos, Food Culture, Ingredients and more- Featured Recipe – Apple Crisp – Click Here!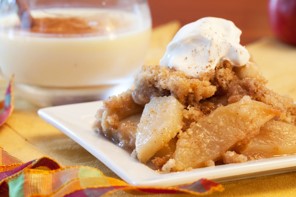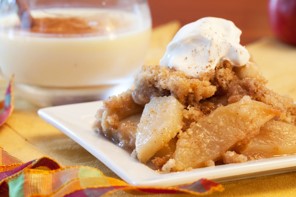 CLICK below for more recipes
https://www.atozfoodamerica.com?c=nNgqBDA83a
The first recipe for apple crisp appeared in Isabel Ely Lord's 1924 cookbook, Everybody's Cook Book: A Comprehensive Manual of Home Cookery. Similar to apple cobblers, apple crisps are baked in deep dishes. They have crispy, crunchy toppings as the name suggests. Tart apples are used as they contrast nicely with the sweet topping. Spices like nutmeg, cinnamon, and allspice add a zesty flavor to apple dishes. Served warm with whipped cream or vanilla ice cream, apple crisps are favorites for desserts and snacks in the fall.
Ingredients
Directions
Preheat oven to 350°F. Grease or butter a deep 8-inch square glass baking dish.
Place apples in dish and lightly moisten with water.
Mix butter and sugar; add flour, salt, cinnamon and nutmeg.
Spread mixture over apples. Sprinkle with walnuts.
Bake 30 minutes or until the apples soften and the topping is crispy and brown.
Serve warm with vanilla ice cream or whipped cream, if desired.
https://www.atozfoodamerica.com?c=nNgqBDA83a