Foodies- New Online Database for Hagaman Library Card holders only! Recipes, Food Videos, Food Culture, Ingredients and more- Featured Recipe – Black Forest Cookies- Click Here!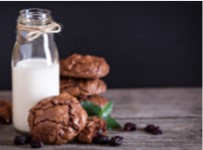 CLICK below for more recipes
https://www.atozfoodamerica.com?c=nNgqBDA83a
Black forest cookies were inspired by black forest cake, a classic German dessert combining chocolate and cherries. The traditional cake recipe includes a cherry liquor that is not used in the cookie version. Like many cakes, black forest was probably first converted into a cookie recipe because cookies travel much more easily than a cake.
Directions
Preheat the oven to 350°F. Line cookie sheets with parchment and set them aside.
Whisk together the flour and baking powder in a small bowl. Set it aside.
Place ¾ cup of chocolate chips into a large microwave-safe bowl and heat uncovered for 1 minute. Stir until smooth. If needed, microwave at additional 15-second intervals until mixture can be stirred smooth.
Stir the brown sugar, butter, eggs, and vanilla into the melted chocolate.
Add the flour mixture to the chocolate mixture, mixing until combined.
Stir in the remaining chocolate chips and cherries.
Drop the mixture by tablespoonfuls onto the prepared cookie sheets.
Bake for 12 minutes or until cookies are puffed and set to the touch. For a firmer cookie, bake for 14 minutes.
Remove the cookies from the oven and let them stand for 2 minutes before transferring them to a wire rack to cool completely.
https://www.atozfoodamerica.com?c=nNgqBDA83a