Free Family Folk Concert at the Library! Performed by Nationally-Renowned Singer/Songwriter Phil Rosenthal-Wednesday, August 4 at 6:30 p.m. (with a rain date of Thursday, August 12 at 6:30 p.m.)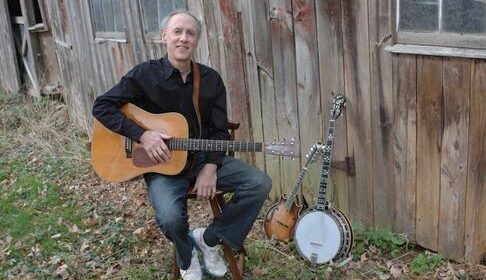 With firm roots in folk, bluegrass, and country, Phil Rosenthal's music is a delight for all ages. His rich baritone voice, lively instrumental work, and relaxed stage presence have charmed audiences throughout the U.S., Europe, Japan, and even the prestigious Grand Ole Opry!
The Washington Post describes Phil as "one of the most expressive singers of traditional country music." On August 4, Phil will perform a medley of original and traditional bluegrass and folk songs.
The concert will take place in the Library's back parking lot and chairs will be provided. Masks are not required outside on the Library grounds. Concert-goers may bring their own beverages, but food is not allowed either inside or outside the Library at this time. There will be a rain date for the concert of Thursday, August 12 at 6:30 p.m.
This concert is free and open to everyone. The Library asks that you please register ahead to attend this concert. You may register by calling the Library at 203-468-3890 For questions about this concert, please call Cynthia at 203-468-3891. Thank-you!
Extra parking for evening and weekend library events is available in the East Haven Town Hall parking lot on 250 Main Street (across the street from the library), in the KeyBank parking lot next to the library (after 12:00 p.m. on Saturdays and after 5:00 p.m. on weekdays) and in the Stop and Shop lot behind the library, accessible from Messina Drive.