Meet the Author Event: John Paolillo, Author of "Another New York Moment" on Saturday, December 14 from 2:00 p.m. to 4:30 p.m.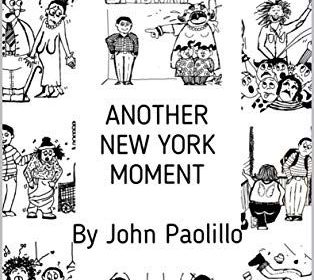 John Paolillo, originally from East Haven, is a successful Dancer, singer, Actor, Choreographer and Fitness Professional in New York City. He possesses what his family describes as freak appeal. John has the ability to attract misfortune, children, animals but most of all the every day unstable "human being ". After sharing his experiences with his flair for dramatic story telling on his face book page, time and time again he would get request to make these moments a book and that people would buy them. Well time to put your money where your mouth is and buy this book. The stories are true but seeing John has spent years of his life in theater and TV. They are told with a dramatic, colorful flair and sometime a sharp tongue. If this book is received well john has more to say and is willing to go even deeper with his next book About "dating" and "the gym". Stories that can't be unread.
Don't miss John's appearance at Hagaman Library on Saturday, December 14 from 2:00 p.m. to 4:30 p.m. He will speak individually with fans and sell and sign copies of his book Another New York Moment at a table in the front rotunda of the library near the library's main entrance. Copies of the book are $15 each.
Extra parking for evening and weekend library events is available in the East Haven Town Hall parking lot on 250 Main Street (across the street from the library), in the KeyBank parking lot next to the library (after 12:00 p.m. on Saturdays and after 5:00 p.m. on weekdays) and in the Stop and Shop lot behind the library, accessible from Messina Drive.