New and Notable YA Releases – November

We Are Not Free by Traci Chee
Fourteen teens who have grown up together in Japantown, San Francisco.
Fourteen teens who form a community and a family, as interconnected as they are conflicted.
Fourteen teens whose lives are turned upside down when over 100,000 people of Japanese ancestry are removed from their homes and forced into desolate incarceration camps.
In a world that seems determined to hate them, these young Nisei must rally together as racism and injustice threaten to pull them apart.
Elatsoe by Darcie Little Badger
Imagine an America very similar to our own. It's got homework, best friends, and pistachio ice cream. There are some differences. This America has been shaped dramatically by the magic, monsters, knowledge, and legends of its peoples, those Indigenous and those not. Some of these forces are charmingly everyday, like the ability to make an orb of light appear or travel across the world through rings of fungi. But other forces are less charming and should never see the light of day. Seventeen-year-old Elatsoe ("Ellie" for short) lives in this slightly stranger America. She can raise the ghosts of dead animals, a skill passed down through generations of her Lipan Apache family. Her beloved cousin has just been murdered, in a town that wants no prying eyes. But she is going to do more than pry. The picture-perfect façade of Willowbee masks gruesome secrets, and she will rely on her wits, skills, and friends to tear off the mask and protect her family.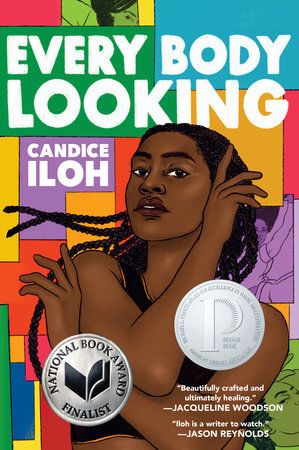 Every Body Looking by Candice Iloh
When Ada leaves home for her freshman year at a Historically Black College, it's the first time she's ever been so far from her family—and the first time that she's been able to make her own choices and to seek her place in this new world. As she stumbles deeper into the world of dance and explores her sexuality, she also begins to wrestle with her past—her mother's struggle with addiction, her Nigerian father's attempts to make a home for her. Ultimately, Ada discovers she needs to brush off the destiny others have chosen for her and claim full ownership of her body and her future.
The Other Side of the Sky by Amie Kaufman
Prince North's home is in the sky, in a gleaming city held aloft by intricate engines, powered by technology. Nimh is the living goddess of her people on the Surface, responsible for providing answers, direction—hope.
North's and Nimh's lives are entwined—though their hearts can never be. Linked by a terrifying prophecy and caught between duty and fate, they must choose between saving their people or succumbing to the bond that is forbidden between them.
#MurderFunding by Gretchen McNeil
WELCOME TO WHO WANTS TO BE A PAINIAC?, the latest reality TV show on the hunt for the next big-hit serial killer. But don't worry-no one is actually going to murder anyone, as real as the fake gore and pretend murder may appear . . . uh, right?
Seventeen-year-old Becca Martinello is about to find out. When her perfectly normal soccer mom dies in a car crash, a strange girl named Stef appears and lets Becca know that her deceased mom was none other than one of Alcatraz 2.0's most popular serial killers-Molly Mauler. Soon, Becca ends up on Who Wants to Be a Painiac? to learn the truth about her mom's connection to Molly, but things turn sinister when the people around her start being murdered IRL. Will Becca uncover dark secrets and make it out of the deadly reality show alive? Or will she get cut?
You can also check out the first book in the series, #MurderTrending!
All the Days Past, All the Days to Come by Mildred D. Taylor
Cassie Logan, first met in Song of the Trees and Roll of Thunder, Hear My Cry, is a young woman now, searching for her place in the world, a journey that takes her from Toledo to California, to law school in Boston, and, ultimately, in the 60s, home to Mississippi to participate in voter registration. She is witness to the now-historic events of the century: the Great Migration north, the rise of the civil rights movement, preceded and precipitated by the racist society of America, and the often violent confrontations that brought about change. Rich, compelling storytelling is Ms. Taylor's hallmark, and she fulfills expectations as she brings to a close the stirring family story that has absorbed her for over forty years. It is a story she was born to tell.
Kingdom of Sea and Stone by Mara Rutherford
Ever since Nor was forced to go to a nearby kingdom in her sister's place, she's wanted nothing more than to return to the place and people she loves. But when her wish comes true, she soon finds herself cast out from both worlds, with a war on the horizon. As an old enemy resurfaces more powerful than ever, Nor will have to keep the kingdom from falling apart with the help of Prince Talin and Nor's twin sister, Zadie. There are forces within the world more mysterious than any of them ever guessed–and they'll need to stay alive long enough to conquer them…
You can also check out the first book in the series, Crown of Coral and Pearl!
Want to read this book? You can check it out through our curbside service! For more information, call the library at 203.468.3890.