SIMPLYE: An APP that brings you a wide selection of eBooks and eAudios through the Connecticut State Library!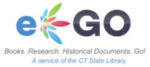 WHAT IS SIMPLYE: SimplyE is an e-reader/e-Audio app that makes it easier to browse, borrow and read library e-books, and eAudios. SimplyE is free and easy to access with your Hagaman Memorial Library card.
Simply download the SimplyE app to your iOS, Android or Kindle device to instantly access thousands of free e-books and e-Audios. NOTE: All you need to borrow materials from Hagaman Memorial Library's SimplyE App is your Hagaman Memorial Library card. No PIN number required.
DIRECTIONS
Click on one of the links below to learn how to download the SimplyE App:
For more information on what devices are compatible with the SimplyE App, click here. 
If you have questions on how to use SimplyE, please contact Cynthia at cgwiazda@hagamanlibrary.org.