The Connecticut Yuletide Carolers & A Visit From Santa! Saturday, December 1 at 2:00 p.m.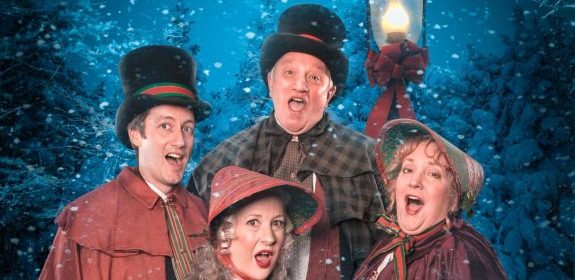 Traditionally garbed Victorian Carolers will fill the winter air with the bright sounds of the season, bringing holiday cheer to young and old alike.  You will enjoy beautiful holiday music sung a capella in four-part harmony. The Carolers share the history of several of their carols and talk about the traditions that made them popular. Santa will take time out of his busy schedule making toys at the North Pole to join us!
This special holiday event is free and open to everyone. Seating is limited, so please call the Library at 203-468-3890 to reserve your space(s).
This event is sponsored by the Friends of the East Haven Hagaman Memorial Library! The purpose of the Friends' of the Hagaman Memorial Library is to provide our library with strong support and to continue to work toward accomplishing our goals of improving our town's library facility and services. Everyone is welcome to attend the Friends' Executive Board meetings on the second Tuesday of every month at 6:00 p.m.
Extra parking for evening and weekend library events is available in the East Haven Town Hall parking lot on 250 Main Street (across the street from the library), in the KeyBank parking lot next to the library (after 12:00 p.m. on Saturdays and after 5:00 p.m. on weekdays) and in the Stop and Shop lot behind the library, accessible from Messina Drive.