Trace Your Family Tree at Hagaman Memorial Library! Join the Genealogy Club on the 2nd Wednesday of every month at 6:30 p.m.!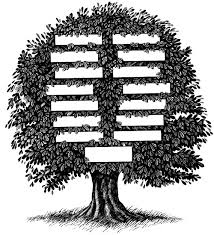 Learn to trace your family tree! Join Hagaman Library's monthly Genealogy Club. Whether you are a novice or an experienced family history researcher, or somewhere in between, this is the group for you. We are free and open to the public and we meet the second Wednesday of every month at 6:30 p.m. You may register in person or email Cynthia. If you would like more information about the club before you join, please call Cynthia at 203-468-3891.
If you are an East Haven resident and have a Hagaman Memorial Library card, you have access to our subscription to the family history database called World Vital Records. World Vital Records is billions of Family History, Genealogy records, and family trees. You will have access to key collections: U.S. Federal Census images and indexes from 1790 to 1940; military records; newspaper articles; unique, exclusive, local and world collections. Click on the World Vital Records link here to login with your Hagaman Memorial Library card barcode number.